3D Scanning & Printing
The fast evolving technology has transformed diagnosis and treatment planning from a traditional two-dimensional (2D) approach into an advanced three-dimensional (3D) technique.
BOUSERHAL Orthodontics is rapidly embracing new materials and advanced technologies, making the fully equipped 3D orthodontic office a reality. Recent developments and introduction of intraoral scanners and 3D printing improved the efficiency, accuracy, consistency, and predictability of our treatment outcome.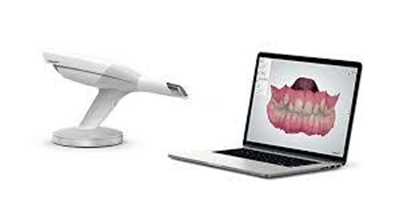 An intraoral scanner (IOS) is a device that is used to capture a direct optical impression. The scanner projects a light source onto the area to be scanned. The images are captured by imaging sensors and are processed by scanning software, which then produces a 3D surface model.
The implementation of the IOS provides easier planning of treatment, case acceptance, communication with laboratories, reduced operative time, storage requirements, and reduced treatment times. It has also made the fabrication of aligners possible in the clinic.

Crafting a smile is a time-consuming process. But with digitization, it has become easy. 3D printing is revolutionizing the orthodontic treatment, providing digital advantages over the traditional workflow process. After the 3D scan is taken, images are added together and then transferred to the computer to get 3D images of the patient's teeth. These files can be sent out to labs or be kept for an in office set up where the 3D file is dragged into the 3D printer. Aligners are then fabricated using the 3D printed models and specific softwares.